ALPHABETA Inc selected as the training partner for HDFC Securities clients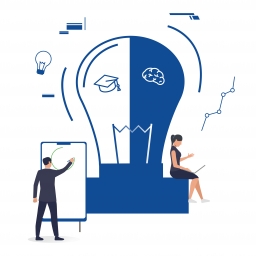 ALPHABETA Inc, the New York based FinTech firm, has been selected to run training courses for the clients of HDFC Securities. The firm uses 'active-learning' approach using a combination of flipped-classroom and learn-by-doing. It is the first platform to use true visual collaboration to bring together students, practitioners and consumers in financial markets through unique immersive user experiences.
The training program will include modules on various topics related to financial instruments and portfolio management. The courses will range from introduction to wealth management, to mutual funds, hedge funds, futures and options, and then advanced trading strategies like momentum investing and pairs trading. Technical analysis, and the fundamental approach to investing will also be included as detailed modules for training.
The ALPHABETA Guide platform has been built using a patented visualization technology. It provides learners with an intuitive, immersive space (similar to a Google Map) that enables them to understand complex financial concepts by interacting with graphical objects, conducting experiments/simulations, making decisions, observing outcomes and drawing conclusions. Similar to a Physics or a Chemistry Lab, ALPHABETA uses a combination of live exploratory environments with near real-time market data, moving infographics objects and visual metaphors, making it a one-of-a-kind Finance Lab at your fingertips.
It is expected the learners will be able to build a robust financial understanding and portfolios eventually. A subsidiary of the HDFC Bank, HDFC Securities is India's third largest broker with more than 2.1mn accounts holders. This training will provide the account holders with simplified information on the instruments and portfolio management strategies available to help them make informed investment decisions.