Chitkara Business School Signs pact with ALPHABETA Inc for FinTech courses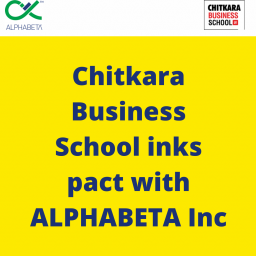 Chitkara Business School, a leading business school in North India, signs a pact with the US based ALPHABETA Inc to make students ready for the jobs in the FinTech industry.
Dr Madhu Chitkara, Pro Chancellor and co-founder, Chitkara Educational Trust mentioned that, technologies are revolutionising every aspect of our lives, banking and financial services are no exceptions to this change. If done right, India could be the next powerhouse in BFSI space for the world. However, educational institutions need to adapt to the changing skill-set requirements and keep pace with technological advancements. The collaboration with ALPHABETA Inc will expose our students to FinTech space, open newer career and entrepreneurial opportunities and further consolidate our vision of promoting academic excellence through interdisciplinary applied research and to expand realms of knowledge through innovation.
Mr Sathyanarayanan Palaniappan, MD, COO ALPHABETA Inc mentioned that, we are very glad to partner with a progressive institution like Chitkara Business School, the work requirements are changing dramatically and the new workforce needs to adapt to this change. Starting with the curriculum, the learning environment should enable students to be prepared for the jobs of the future. Adding to these challenges is the pandemic of COVID-19, where students are faced with online fatigue and it is imperative that the institutions take effort to make the learning effective and engaging. ALPHABETA's flagship FinTech program is designed to address these challenges. Students will learn-by-doing using virtual labs built using the concepts of active learning spaces and focused on the new age FinTech ecosystem. Students will also create proof-of-work artefacts, to clearly showcase competency in this space. This enables students to be job ready with better higher order thinking skills.
ALPHABETA leverages data visualization, immersive elements from gaming platforms and conceptual rigour from academic papers to bring a complete learning experience to the students.