January 21st, 2021
Speciality Chemicals - New Horizon for India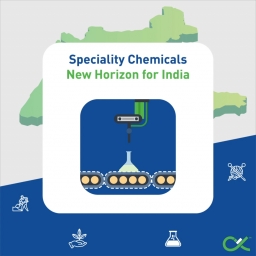 Dalai Lama once said "Just as ripples spread out when a single pebble is dropped into water, the actions of an individual can have far reaching effects". It seems the same holds true for global economies as well.
The Chemical Industry was dominated by the European Union and the U.S.A, together accounting for more than 40% of the global economic space. However, the financial crisis of 2008 changed the global chemical export landscape and developing economies, mainly Asian took advantage. In a dominant fashion, China took a leap with its cheap labor, cheap credit, subsidies and relaxed environmental norms.
The below graph clearly shows how China's contribution in global chemical export from 6% in 2000 increased to 37% in 2017.
The Indian chemical companies were not able to match China's cheap exports. Despite following emission norms and eco-friendly technology, Indian companies were forced to underutilized their plants, hence their profitability suffered.
Pic: Percentage share in Global Chemical Sales (CRISIL Report1)
China's Green Tax and rising labor cost gave a competitive edge to Indian players
When the Northern China's blue sky got covered into a dark cesspool of Carbon and Sulphur dioxide, the alarm bells rang in Beijing and the Communist Party in China declared its war against pollution.
Over 80,000 manufacturing units were fined and 40% of the units were shut down2. Meanwhile, introduction of new emissions standard, construction of effluent treatment plants and a Green tax adversely affected both production cost and supply chain.
The labour cost in China was lower than that of India till 2007. However, over 2005-2015, the average labour cost in China increased nearly 19-20% CAGR, against 4- 5% CAGR in India3.
China's slow economic growth and US–China trade war have also impacted the production growth in China. All these factors together, are pushing the capex and opex costs upwards, making Chinese chemical companies less competitive in the export market.
China's declining competitiveness has set the stage for India to intensify its effort to capture global market share and COVID-19 has raised concerns in the U.S, EU and Japan to rethink on their supply chain.
Unparalleled opportunity for India to seize the market
COVID-19 had been an eyeopener for global players to rethink about the vulnerability of their supply chains and a very high dependence on a single nation for sourcing raw materials. Global players are adopting "CHINA, Plus ONE" approach to have a better control over supply chain.
India has a demonstrated track record of becoming a strong exporter in various sectors. We have successfully established ourselves as the leading manufacturer of generic drugs and contribute nearly 40% to the global market. India has become the most favoured destination for global IT services outsourcing and enjoys close to 55% market share in the same.
The time has come for the specialty chemical companies to emulate the pharma and IT growth model to foray into new products and chemistries.
The inherent strength of specialty chemical manufacturing sector such as low operating overheads, better manufacturing and compliance standards, stringent environment policy, availability of feedstock, skilled manpower and stronger IP protection, are good drivers to build India as a viable sourcing alternative for global players.
What's so Special about Specialty Chemicals?
Commodity chemicals have dozens of different applications and are manufactured in bulk. This creates economies of scale but attracts a lesser profit margin. Specialty chemicals can be a single chemical entity or formulations whose composition influence the performance and process of end products. They usually have a single core application (e.g., adhesives, cosmetic additives, etc.), unlike commodity chemicals (e.g., acetone, benzene, etc.)
Speciality chemicals industry can be sub-divided based on end-user industry into agrochemicals, dyes and pigments, personal care ingredients, polymer additives, water chemicals, textile chemicals and application-driven segment.
With a size of ~ $32 billion (2019), the speciality chemical segment constitutes 18% of the total chemical industry in India. As per Businesswire4 research, the segment is expected to grow at a CAGR of ~12% during the five years 2019-2024. The growth is being propelled by an increase in demand in end-user industries like food processing, personal care and home care.
Value Creator with a positive outlook - Specialty Chemical Companies
The sudden supply shift from China to India from last few years hasn't gone unnoticed. We studied how specialty companies have proven to be a consistent value creator for their shareholder since the last 5 years
Pic: Share Price Returns of Speciality Chemical Companies in India (Apr 2015-Dec 2020)
The superior performance of the specialty chemicals industry has also been reflected in the shareholder value creation by the leading players in the industry vis-a-vis the overall performance of the index.
As highlighted above, the specialty chemicals industry has performed much better during the COVID-19 period. Infact, Rossari Biotech, was the first IPO to hit the market post the pandemic outbreak and received a stellar response, with a listing premium of ~58% to its issue price.
Government Initiatives are the need of the hour
Global market for specialty chemicals is $700 to 750bn and India accounts for only 4% of it, whereas China holds 15% of the market currently5. India's low-cost manufacturing capabilities, strong process of engineering skills and abundant availability of manpower could make it a preferred manufacturing destination for players across the globe only if the required ecosystem is created.
The road ahead is bumpy, as companies are still dependent on imports for their raw material. The import substitution is the need of the hour to achieve economies of scale and to become an export hub.
The government has taken necessary steps in this direction by allowing 100% FDI under automatic route (except in the case of certain hazardous chemicals). In addition, introduction of PCIPRs and Plastic Parks worth $1.1 Billion6 will give state of art infrastructure and Production Linked incentives scheme under Atamnirbhar Bharat Abhiyaan.
The Future
The chemical manufacturing business was anyhow shifting towards India when sustainability and welfare became global norm and the novel pandemic has only accelerated it further. The stage is set, Indian chemical industry must get ready to chip off China's dominance in specialty chemical global space by responding to the strong demand of key global markets and de-risking their supply chain and liberalizing deglobalization.
We missed the bus on semiconductors, we have might have missed the bus on electric vehicles as well, but speciality chemicals could be that industry which can replicate the IT and Pharma sector growth model.
Reference
1, 2, 3: Chinese Blessings for the Chemical Industry - A CRISIL Report
4. Businesswire report on Indian Speciality Chemical Market
5. Is it India's time in Speciality Chemicals - American Chemical Society Report
6. Chemicals in India - IBEF Report
Comments