December 15th, 2020
Healthcare Goes Mobile Without Passcode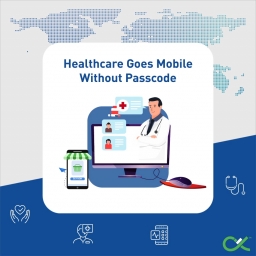 The COVID -19 pandemic has been an eye opener to us, conveying how important it is to reboot our healthcare system. Covid-19 has shifted the globe towards digital media and online space and has dramatically changed the consumer behavior. With social distancing becoming the norm, "contactless" has become the "new normal" buzzword. No industry seems to have escaped from the disruption caused by the novel pandemic and Healthcare is no exception. The focus on Preventive Healthcare and a shift from traditional in-person doctor-patient interaction to digital home care has become imperative.
Clearly the pandemic has unravelled the myriad avenues and opportunities in boosting healthcare and life sciences in India and the world. Health is wealth, and in the post COVID-19 world, health will still be wealth, with technology as its greatest investment. We hope that in the coming months, the Covid-19 fury will fade, but the digital cultural transformation brought by the epidemic will stay with a more robust healthcare system. The phygital (physical along with digital) is going to be the new normal and the pandemic has pushed India ahead in adopting virtual care as the new norm.
Keeping with the current trend, Edelweiss Asset Management, in association with MSCI has launched Edelweiss MSCI India Domestic & World Healthcare 45 Index Fund1 to provide an opportunity to invest in top healthcare companies around the world. The growth in demand to treat lifestyle diseases and conducive policy environment has sparked the spending in and digital development of the healthcare sector in near future. This fund will be the country's first passive thematic index which will invest 70% of its corpus in top 25 local companies and rest 30% in global healthcare companies listed in the United States.
The global exposure of combining the research and innovation story of the United States with the growth and consumption story of India will give an edge to retail investors and will also make them able to redeem rupee-dollar currency moves.
Following the wind, The Nifty Healthcare Index2 was launched on 18th November 2020 which will be used as a benchmark for structured financial products. The Healthcare index reflects the behaviour and performance of the Healthcare companies and comprises a maximum of 20 tradable, exchange listed companies.
Pandemics can be short-lived, but the economic impact can be long-term. The below graph indicates that the pharma sector did fairly well, and played the major role in pushing Nifty50 back on track. The Nifty Pharma had delivered a 64% return in the last 6 months, just double than the return given by Nifty 50 and highest when compared with other indices.
We researched how Nifty Pharma companies had performed in the last 3months and 6 months, when everyone in the world was eyeing India for generic medicine supplies. The stockpiles by developed nations had boosted the revenue of pharma companies and the below graph gave indication how pharma companies were on the investors radar during this novel turmoil. The Covid-19 had disrupted many industries but the Insurance sector particularly the health insurance got benefited from this pandemic.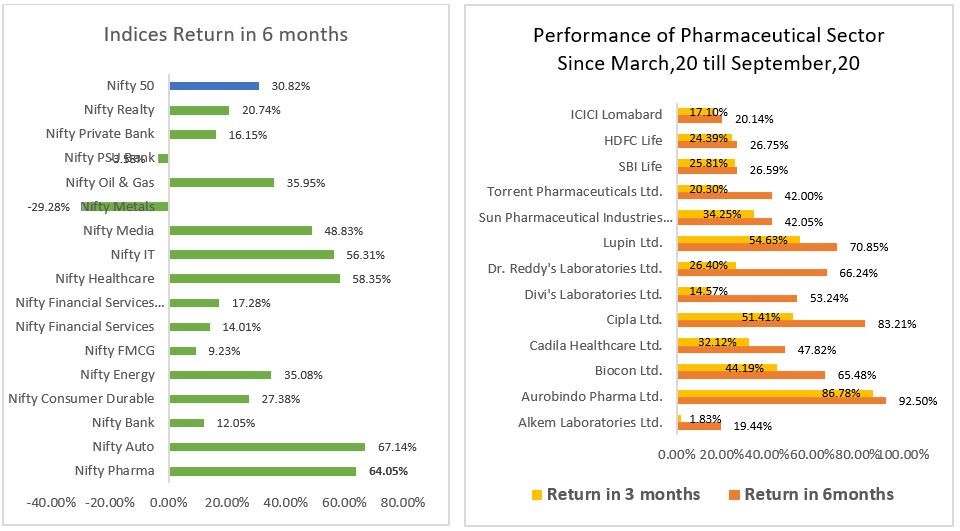 Source : ALPHABETA Research Team
Alphabeta Guide is one such platform that allows users to select a chosen sector from NSE-100 stocks and can test the strategy before investing actual capital in the real market. The virtual portfolio mode on the App allows one to track and manage a portfolio on a daily basis and compare performance with a benchmark.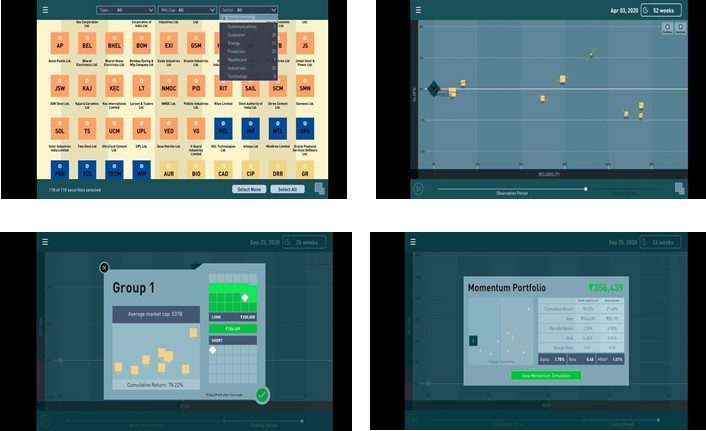 Source: ALPHABETA App
Healthcare goes Digital
The era of virtual care has arrived, with tele-medicine spearheading the change as the patients refrained from visiting doctors during the run of the pandemic. Globally, virtual primary care consultations have grown from 5% to 95% since January 2020.
With the fear of getting Covid-19, the occupancy of the hospitals has declined sharply, OPD revenues are negligible now. Major hospitals like Fortis and Apollo have registered losses in the Jun-Sep 2020 quarter. Hospitals like Max and startups like Portea have adjusted to the new trend and are providing home care.
In India, Practo reported3 five crore Indians accessed healthcare services online during the first phase of lockdown between March 2020 to May 2020. Indian platforms such as Practo, Mfine, Lybrate etc. had experienced 50% - 100% uptake during lockdowns in tele-consultations.
A virtual visit seems to be beneficial for both patients and doctors. Doctors are able to expand their assistance to their existing patients as well as newer patients within the same and newer geographies and patients get access to specialized healthcare at their own convenience.
Can we say home care is going to replace hospital care – Time will tell but for now it has definitely off-loaded the hospital burden.
The restricted lockdown and limited range of medicines with local pharmacies has also given a boost to E-pharmacy. E-pharmacies offer a convenient and an affordable way to purchase medicines and major players in this segment have seen a surge in their sales during lockdown. Medlife and 1mg reported 50% rise in delivery orders and pharmeasy reported a 40% rise.
The Government of India (GoI) has been climbing the policy ladder step by step by announcing a slew of schemes – (1) Ayushman Bharat, world's largest government-funded healthcare insurance program which will provide tele-medicine, e-pharmacies and e-diagnosis to rural population (2) Jan Aushadi Program to ensure accessibility, acceptability and affordability of quality medicines for the poor (3) NHS (National Health Stack) and (4) Swasth - to create a shared digital infrastructure, that will link all stakeholders through a secure and an open-sourced digital ecosystem.
Tele-consultation as a standalone solution has limited benefits for doctors and patients, there is a need to create an ecosystem which will link all the aspects of healthcare at a place. To address this need, Reliance has come up with a platform - JIO Health Hub. It aims to provide a one-stop solution to patients through its Health Hub platform. Patients can consult experts, book lab tests, store health data and create charts. Jio Health Hub is powered by JioMeet, a platform for virtual consultations; KareXpert, a digital healthcare provider and JioMart, an online to offline delivery platform with a large offline footprint.
Turn of the Tide : Digital Architecture for Insurance Sector
What demonetization did to digital payments, COVID-19 has done to digital health insurance
India has traditionally been an underinsured country, with private health insurance schemes covering only 18% of the population in urban areas and a little over 14 per cent in rural areas. Online distribution portal Policybazaar says health insurance has seen a jump of 35-40% on its platform while life insurance registered a 20% growth during this period4.
"Falling seriously sick or ill was considered a 'low probability event', historically. But COVID-19 has been the mother of all wake-up calls. The importance of health cover and affordability, especially for the middle income group, has been realised.

Insurance companies have also found new ways to attract the customers. ICICI Lombard became the first provider to reimburse home healthcare service costs as a part of its medical insurance policy. Indian customers are more aware of health insurance now than before. Players like Star Health Insurance, ICICI Lombard and Aditya Birla Health insurance have utilized the heightened health awareness and have turned it into opportunity by covering tele-medicine facilities and home care as a part of their medical insurance packages.

Time for increased public health budgets
The COVID-19 outbreak has pushed India's healthcare sector into the ICU. India's public expenditure on health as a percentage of GDP is a little over 1%, one of the lowest in the world, according to the National Health Accounts' estimate. Public spending on health has been stuck at around 1% of GDP for close to 15 years which has led to the poor quality, limited reach, and insufficient public provisioning of healthcare. The fiscal stimulus announced by the Ministry of Finance on May 12 amounts to 0.008% of the country's GDP. An overstretched public healthcare system forced millions of people to seek health services from the unregulated private healthcare sector. India spends the least among BRICS countries: Brazil spends the most (9.2%), followed by South Africa (8.1%), Russia (5.3%), China (5%)5.
Covid -19 is a reminder which tells why it is important for a country to invest in public health infrastructure and the failure of policy makers to recognise that poor health is holding back the country's progress. The increased health budget will create a well-balanced and equitable health system to combat public health emergencies and will take India a step ahead to achieve UHC (Universal Health Coverage) goal. The investment on healthcare infrastructure will also create both high and low skill jobs.
Ambitious Vision – National data Health Policy
National Digital Health Mission policy was announced by Prime Minister Narendra Modi on 15 August 2020, which gives every Indian citizen a unique health ID. It will serve as a digital repository by containing all health data as well as provide a registry of doctors and health facilities.
A seemingly hurried data policy " The National Digital Health Mission" has brought a digital revolution in the healthcare sector but raised doubts about data protection and privacy. Also, past experience with the Aarogya setu app raises concern over its mandatory/voluntary aspect. Managing data of over a billion citizens comes with the potential risk of misuse, breach and lapses. If the government can address this, it might prove to be a great help, especially to health practitioners. Its significance also seems enhanced in the wake of a national vaccine campaign that will have to be run as and when the country is ready for a Covid-19 vaccination.
Bottom Line
COVID- 9 outbreak has provided the much-needed fillip towards virtual healthcare adoption. Despite encouraging adoption rate, scalability of virtual care models remains a challenge for the Indian healthcare ecosystem. Some of the key challenges include patient data privacy concerns, trust issues, concern about substitution practices, consultation limitations and lack of adequate infrastructure in rural, tier 2 and tier 3 cities.
Currently, private health partners are charging exorbitant prices for health service delivery. However, it is unrealistic to expect an already overburdened sector to do the heavy lifting without the required public private support. Like for massive testing; private labs were given permits and lab testing cost is being covered under Ayushman Bharat Pradhan Mantri Jan Arogya Yojna (AB-PMJAY). The government can keep a control on the prices of testing, drugs and admission of patients to ensure availability of services at an affordable cost.
In the end, the onus is heavily on the government to make consistent efforts so that the National Digital Health Mission scales from an aspiration to reality.
References
Comments