October 7th, 2019
Should Exchange Traded Funds (ETF), be part of your Portfolio?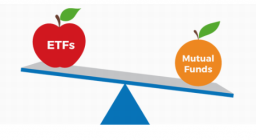 Why ETF?
Of late, we have been bombarded with many news articles on the growth of Exchange Traded Funds (ETFs) and performance of ETF vs Mutual Funds, albeit with divergent views !!!. One set of propagators claim the superiority of trading or investing in ETFs over actively managed mutual funds and another set has a divergent viewpoint. The scope of this discussion is not to prove or disprove the hypothesis on the performance of the ETFs, but in general, to provide an overview of ETFs, how they are different from actively managed mutual funds and, what should be the asset allocation strategy for ETFs in one's portfolio.
How Exchange Traded Funds are different from actively managed mutual funds.
Exchange Traded Funds are a financial instrument that invest in a basket of securities and usually the basket comprises of securities, which makes up a benchmark index. The performance of the ETF mimics the performance of the underlying securities in the benchmark index. The basket can comprise of set of shares or bonds or commodities like gold. Usually, the underlying basket of securities mimics a composition of an Index. While a majority of ETFs track the performance of an Index, there are some ETFs that are actively managed as well.ETFs like active mutual funds are managed by a fund house/ asset management companies.
However, there are a couple of fundamental differences between an ETF and an actively managed mutual fund:
Criteria

ETF

Active Mutual Funds

Cost

Lower

Higher

Liquidity

Traded on an exchange; purchased and sold on the exchange via a trading member/broker

Purchased and sold directly by the fund house or its appointed registrars and transfer agents

Investment Objective

ETF mimics performance of an underlying benchmark/ Index

In general, active mutual funds are expected to outperform the benchmark, considering the higher cost paid for managing the funds

Management

ETFs are created by the authorized participants and are managed by the fund house

Mutual funds are actively managed by the fund house

Performance Measurements

Performance of ETF is measured in terms of the ETF being able to match the performance of the underlying Index - measured by tracking error

Performance of active mutual funds is tracked by risk-adjusted returns - commonly used performance parameters include ALPHA and Sharpe Ratio

Examples

In the United States, there is SPDR S&P 500 ETF - managed by StateStreet Global Advisors, Vanguard Total Stock Market ETF - Managed by Vanguard, etc.

In India, there is SBI Nifty 50 ETF - managed by SBI Mutual Fund, Reliance Gold ETF - Managed by Reliance Mutual Fund





In the United States there is Fidelity Contra Fund - managed by Fidelity Investments, Vanguard Strategic Equity Fund - managed by Vanguard

In India there is HDFC Top 100 Fund - managed by HDFC Mutual Fund, Mirae Asset Emerging Bluechip Fund - managed by Mirae Mutual Fund, etc
Whether ETF should be a part of your portfolio?
World's first ETF was launched in Canada in the year 1990. Three years later, in 1993, it was launched in the United States. In India, the first ETF was launched in Dec 2001. In recent years, especially in the markets like the United States, the money inflows in ETFs have been higher than the inflow in actively managed mutual funds.
While the trend is yet to catch-up in India, however, we are witnessing the money moving in the same direction as developed markets. The relatively share of ETFs (including Fund of Funds) in the overall assets under management at an industry level have increased from 4% (in August 2018) to 5.8% (in August 2019).
One of the most popular reasons of money inflows into ETFs can be attributed to the fact that with markets becoming more efficient, the ability of active fund managers to generate excess returns over the benchmark if becoming increasingly difficult.
Given the low cost of managing ETFs and the increasing efficiency of the market, we will witness the asset allocation moving towards ETF as compared to actively managed mutual funds.
Comments